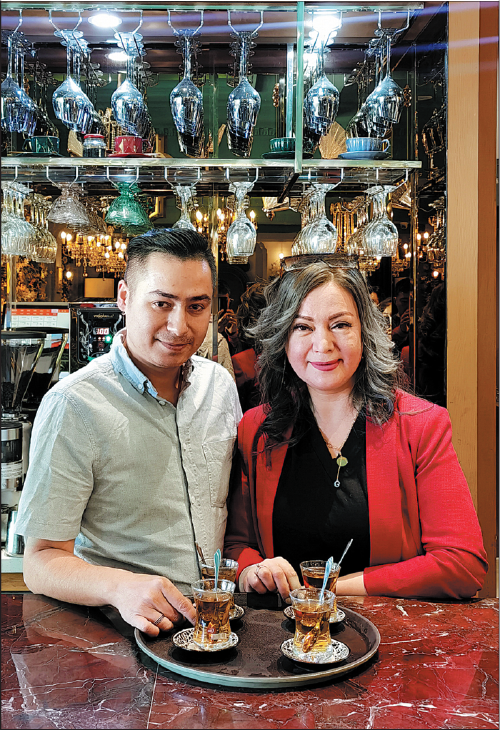 Zulpi Har has opened a chic restaurant in town recently, offering both Uygur and Western dishes. The restaurant, called Riano, is in the picturesque southern suburbs of Urumqi, in a small village called Fangjiazhuang (Fang Family Village), overlooking the snow-peaked Southern Mountain in the distance. Flocks of sheep graze on the mountain slopes, fattening themselves on green sprouts.
Thanks to its flourishing tourism, the village has opened as many as 69 restaurants and farmhouses over the years, and locals' annual average incomes have increased 11-fold in 17 years, reaching 34,350 yuan ($5,300) last year.
During a recent visit on a Tuesday morning in mid May, Zulpi was busy directing his staff to set tables and prepare Riano for business. A few enthusiastic guests had overstayed their welcome the night before and danced into the wee hours, which would be a headache for any new restaurant.
Zulpi, 36, wearing a short-sleeved cotton shirt, his hair trimmed to a pompadour fade, looks dashingly young for his age, "a thoroughbred Uygur", as he puts it. Thanks to his culinary skills he traveled widely throughout China when he was in his 20s, working as a Uygur chef in cities such as Xiamen, Fujian province, and Wenzhou, Zhejiang province.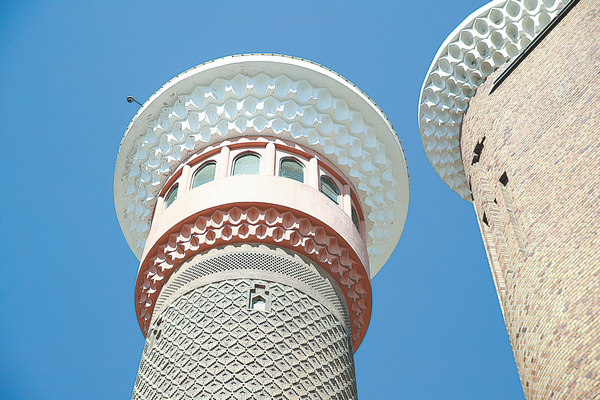 But he is a furrier by trade, he insists. For the past seven years he has worked for his elder sister, who owns a factory in the city of Haining, near Shanghai, that makes fur garments and also a fashion store in the landmark Grand Bazaar in Urumqi that sells them. Her business has been so successful that she was able to buy a villa near the Southern Mountain resort.
"She is very successful," Zulpi says. "You don't meet someone like her every day." He also gushed about what he sees as her glamorous life, self-made fortune and expensive tastes. In fact, it was her who came up with the idea of the restaurant, he says.
When Gulba Har, 45, finally turned up at Riano, stepping out of her white Mercedes-Benz SUV in a rosy red woolen jacket over a knee-length black sweater dress, expensive-looking sunglasses perched on her wavy hair, she was every bit as charming as her brother had made out. Her plump, curvaceous shape looked as though it had had a lot of her money lavished on it. Her Mandarin is fluent. She says she has been a car saleswoman in Shanghai when she was young and had no problem communicating with fur traders of the Han ethnicity in Haining.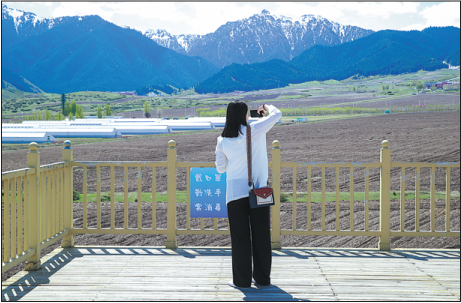 "I've been in the fur trade for more than 10 years now, and my dealings with locals there have always been very pleasant."
In January last year when Gulba was in town checking on the progress of decorations to her villa, she noticed a for-rent placard by the roadside. She stopped her car and walked around for a better look. Two days later she took out a 10-year lease with the landlord, the annual cost being 200,000 yuan.
"I never take long to make an investment decision," Gulba said. "If I like it, I just take it. That's my style."
As if to drive the point, Zulpi quickly added that the restaurant design and decoration cost another 2 million yuan.
"Two and a half actually," she corrected him. She hadn't liked the first draft for the decoration and sent the designer back to the drawing board. The revision seemed more to her taste.
"There is no restaurant like it around here," Zulpi chipped in, swinging back his left hand, offering to give a guided tour.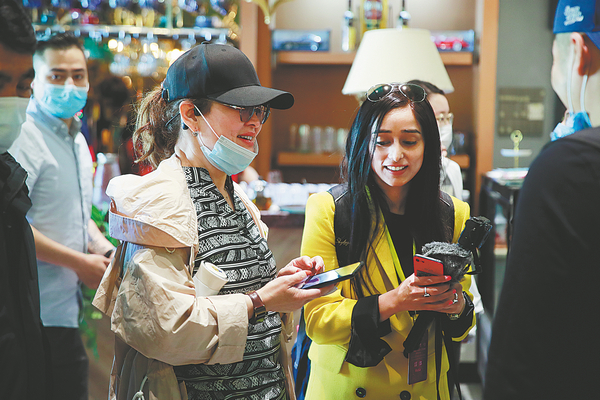 One of its kind
At first glance Riano's frontage-dark wooden planks, green awning and patterned window grilles-feels somehow exotic. The door opens to a brightly colored hall illuminated by chandeliers of various shapes and sizes. The ceiling is emerald green.
Stylish tiles divide the dining hall into different areas, and everywhere you turn there are potted plants, framed prints, shining glass and mirrors. There are also plush couches in every corner. To the left of the entrance are the counter, a well-stocked bar shelf, and a small stage with a music stand, two open mikes and two guitars leaning against a wall. "When bands play on Fridays, Saturdays and Sundays, the dance floor is always packed",Zulpi says.
There is also a second floor and more private rooms. One is painted a torrid red with a low table and many cushion seats. Another is covered in bluish gray with a huge table and a circle of armchairs. Two violins hang on the wall, with no bow in sight.
Unlike her brother, Gulba prefers to show off her chefs instead. Mahmut from Kashgar makes fabulous steak and spaghetti, she says. No one in town can beat her Mamat from Urumqi when it comes to pilaf. One grievance is that her coffee maker is often off sick, and she laments: "We have customers, but there's no coffee."
If Riano's location is impeccable, its style inimitable and its chefs invincible, there was one thing Gulba could not possibly have foreseen.
Early last year she had just bought that villa near the resort and began to have it renovated, even as she replenished the stocks of the fur factory in Haining and her fashion shop in the Grand Bazaar. Feeling thoroughly adventurous, she expanded into the dining industry with a flourish.
However, COVID-19 then appeared and business dried up as dining out disappeared, and the luxury of a mink coat suddenly became ridiculously irrelevant.
For more than a decade her store in the Grand Bazaar had been a veritable cash cow for her. Yet in late July last year bazaar had closed after a regional outbreak of COVID-19. Stocks went unsold and the future looked bleak.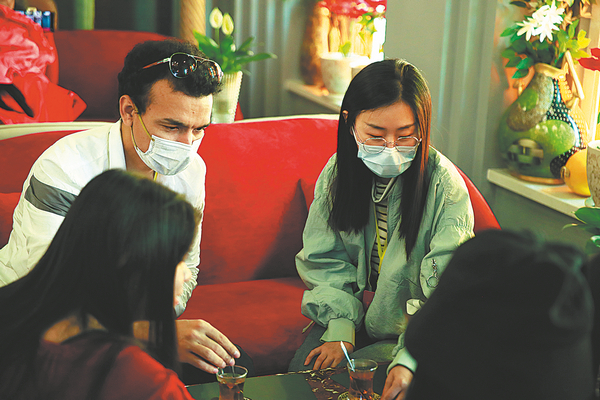 "All those years, I've been very successful,"Gulba said. "Everything I touched, everything I did was successful. Everything seemed so easy. The pandemic was my worst nightmare."
In August she called the landlord and was bowled over by what he told her. "He told me that he would bear the rent loss during the pandemic, and there would be no such thing as rent until the day my restaurant opened. I couldn't believe it and kept asking him if he was kidding. He's so kind."
A month later the Grand Bazaar opened again and has remained open to this day. The bazaar is a local landmark, a celebration of unique Xinjiang culture, architecture, commerce, tourism and entertainment. The giant dome and soaring minarets of its central Erdao Bridge Mosque can be seen many kilometers away.
During a recent visit street vendors could be seen on every lane, hawking all kinds of fruits, nuts, drinks, clothes, rugs, hats, drums, stringed lutes, precious stones, as well as curiously named spices and items a lot of customers would be hard pressed even to name. Small crowds of tourists sporting various colored hats sauntered around, taking pictures, seemingly lapping up the early summer buzz.
In these hard times local governments across Xinjiang have adopted measures to help small business owners ride out of their difficulties. Last year Urumqi municipal government granted a total of 1.63 billion yuan in rent relief and subsidies for small businesses across the city, including to both Gulba's restaurant Riano and her garment store in the Grand Bazaar.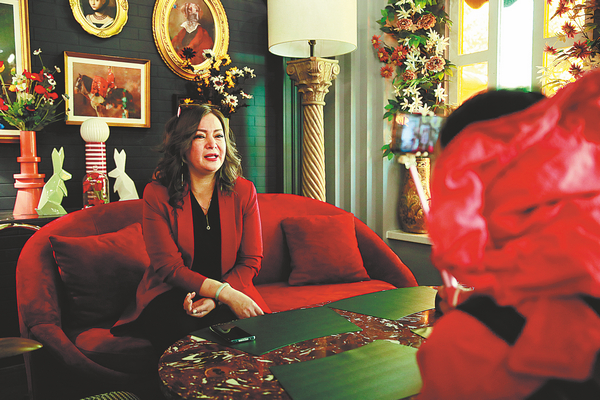 However, Gulba decided that more needed to be done, and she took things into her own hands. Normally she would transport the fur coats from Haining factory to her shop in Urumqi to sell. But it made little sense now when sales in the Grand Bazaar were so stagnant.
She flew to Shanghai taking Zulpi with her, and stayed in the factory. For the next two months she dressed up her brother and another beautiful young girl in gorgeous clothes and sent them in front of livestreaming smartphones.
In the end they sold stock worth nearly 300,000 yuan.
Back at restaurant the conversation briefly turns to COVID-19 vaccination. Zulpi has already had two shots and Gulba was about four days away from her second one.
"All our staff get tested regularly," Zulpi says.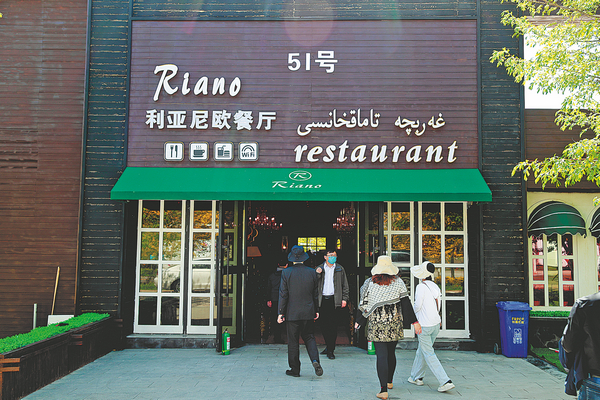 Gulba adds: "It's so regular now. Before I drove here I saw people lining up to do tests. The government is doing a great job on this."
Besides her, Zulpi nodded like an eager student.
Last year Xinjiang Uygur autonomous region spent a total of 47.4 billion yuan on local healthcare, 56.8 percent more than in 2019, a significant part of which was devoted to regional COVID-19 prevention and control.
The restaurant is still new, and many things still need to be worked out. They plan to have the open roof on the second floor decked out with tables and chairs for air fresco dining. Renovations and cleaning-up would take about a month, Gulba said.
They have also bought a coal-fired steel stove capable of roasting two whole lambs. It cost about 3,000 yuan and sits at an unoccupied store room. It looks huge, like a chest freezer with a hole on its top instead of a cover. They are still looking for a master chef.
"I'm sure next time you come, there will be roasted whole lamb," Zulpi says.
"Coffee too," Gulba adds.
And perhaps by then we'll be rid of COVID-19 as well. What a glorious thought.
Contact the writer at hanlei@chinadaily.com.cn