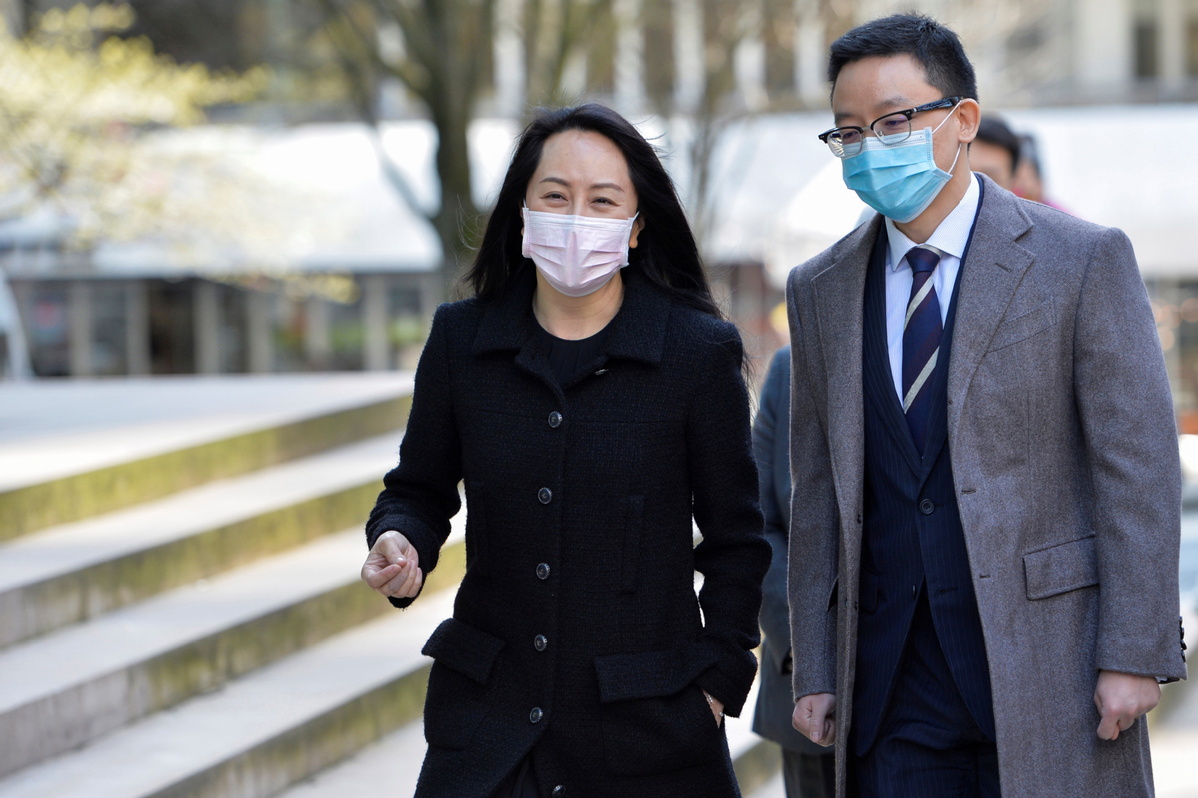 The new evidence submitted by Huawei chief financial officer Meng Wanzhou was not accepted by a Canadian court on Friday, which means Meng would lose bid for key evidence in her battle against US extradition.
"My decision is that the application is denied…The HSBC documents will not be admitted," said British Columbia Supreme Court Associate Chief Justice Heather Holmes, adding that her reasons for the decision would be offered in roughly 10 days.
Meng, 49, was arrested by Canadian authorities at the US' request at Vancouver International Airport on Dec 1, 2018. She is accused of misrepresenting Huawei's relationship with Skycom in a PowerPoint presentation to HSBC in 2013 and putting the bank at risk of violating US sanctions against Iran, which Meng and Huawei have repeatedly denied.
On June 29 and 30, Meng's defense team attempted to introduce new evidence obtained from HSBC through a Hong Kong court in her extradition fight, which were believed to undermine the allegations of fraud against Meng.
The documents including internal email chains and spreadsheets demonstrate the "false and misleading nature" of the US record of the case, on which the Canadian courts are being asked to rely.
Meng's legal team said that emails and documents submitted to a Canadian court showed at least two senior HSBC leaders were aware of connections between the Chinese telecommunications giant Huawei and its Iranian subsidiary, Skycom.
The documents also counter US charges that only junior employees of the British bank knew about the true nature of the relationship between Huawei and Skycom.
Meng's lawyer argued that HSBC's files would prove the US summary of the case "can simply no longer survive scrutiny."
According to the defense team, the offence of fraud advanced by the US is "implicated fatally" by the new evidence. "This new evidence consists of indisputably reliable, contemporaneous business records from the purported victim — HSBC — that are capable of potentially demonstrating that the narratives presented by the [US] are so defective as to compel the court to place no reliance on them."
But Lawyers for Canada's attorney general asked the judge to reject the HSBC's documents as evidence, saying the records are more appropriate for her fraud trial expected in the US, not the Canadian extradition hearings.
Huawei issued a statement Friday by saying that they "respect" the court's ruling, but "regret" the outcome.
"Even though the court did not permit Ms Meng to introduce additional evidence, the new documents demonstrate clearly that HSBC, including its senior executives, were aware of Huawei's relationship with Skycom and its business in Iran. They show that the United States' Record of the Case (ROC) and Supplemental ROCs are manifestly unreliable. The hearings will continue, and as always we support Ms Meng in her pursuit of justice and freedom," read the statement.
Meng's next hearing is scheduled for July 29, her final three weeks of extradition hearings are expected to resume on Aug 3.